Riyadh Airport (RUH)
Find the most important information about Riyadh Airport: Flights (Departures, Arrivals and Delays), Parking, Car Rental, Hotels near the airport and other information about King Khalid International Airport (RUH) or KKIA Airport. Plan your travel to RUH Airport with the information provided in this guide.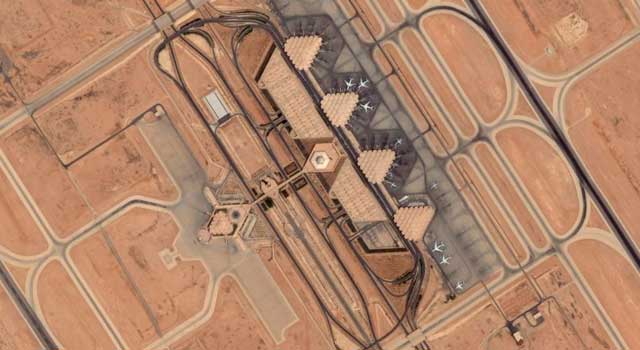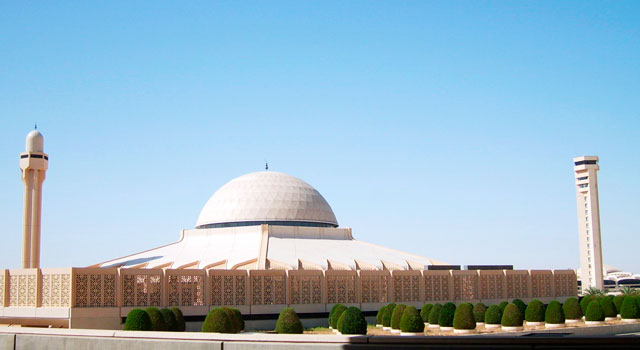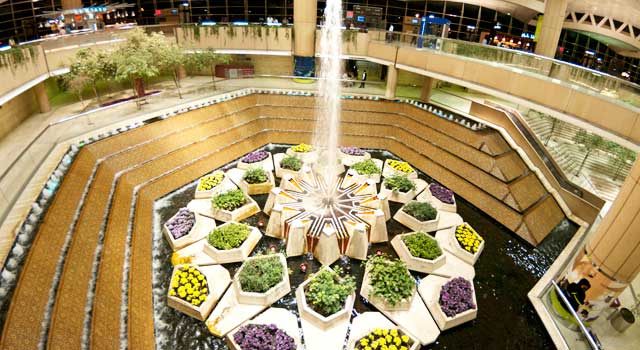 King Khalid International Airport (IATA: RUH, ICAO: OERK), also known as Riyadh Airport, serves the city of Riyadh, the capital of Saudi Arabia. It is the second largest airport in the country after Jeddah Airport.
Riyadh Airport is located 35 kilometers (22 mi) north of Riyadh. KKIA Airport was built to handle the increasing local and international air transport requirements for Riyadh. It is a hub for Saudia and Flynas.
In 2019, 26,000,000 passengers passed through RUH Airport.
During 2020, due to coronavirus crisis, the Airport registered only 15 million passengers.
In 2021, Riyadh Airport handled around 18 million passengers.
At Riyadh Airport there are three operative terminals: Terminal 1, Terminal 2 and Terminal 5, together with the Royal Terminal.

Terminals 1, 2 and 5 are connected by moving walkways and shuttle bus service (Terminal 5).


Terminal 1: Riyadh Airport Terminal 1 handles international services excepting for Air France, Saudia and Nas Air flights.
See more information
Terminal 2: Air France, and Nas Air international services are hosted in Riyadh Airport Terminal 2.
See more information
Terminal 3: T3 has been revamped recently and operates with international flights.
See more information
Terminal 4: T4 operates with Saudia Airlines flights. Also recently revamped and reopened.
See more information
Terminal 5: Riyadh Airport Terminal 5 is the newest terminal, opened in 2016. Handles domestic flights and links with 5 different destinations in Saudi Arabia. Transfer between terminals via shuttle bus service (runs every 10 minutes approx.)
See more information
KKIA Airport has the following Services and Facilities at their passengers' disposal:
- ATMs
- Currency exchange
- Duty free
- Food, drink and retail concessions
- Information desk
- Medical services
- Mosque
- Travel agencies
To get around to and from RUH Airport there are the following transportation options:

Shuttle: Several hotels located in the vicinities of Riyadh Airport offer shuttle service to its customers. It is recommended to check with your hotel if the service is available.


Taxi: Taxi is one of the most efficient ways to get around, since you can transfer to Riyadh within 30 minutes.
See more information


Metro: Terminal 5 links KKIA Airport with Riyadh Metro Yellow Line (L4). It will begin operations in 2023.
See more information


Car Rental: Rent a car at Riyadh Airport. Check our search engine for further details!
See more information
Contact
Address: Airport Road, King Khalid International Airport, Riyadh, 13463, SAUDI ARABIA
Phone (helpline): +966 920 011 233
Lost & Found: +966 920 020 090
E-mail: kkia@kkia.gov.sa
About Riyadh
Riyadh is the largest city and capital of Saudi Arabia, being the third-largest city in the Arab world.


While your stay in Riyadh, you shouldn't miss Old town Riyadh, Ain Heet Cave, the five old gates on the old walls of Riyadh, Musmak Palace, Turaif district, a UNESCO World Heritage Site, King Abdul Aziz Historical Centre, National Museum of Saudi Arabia, among others.